READOOL'S READING LIST 2021 FOR FAMILY COMMUNICATION
This post contains amazon affiliate links
Imagine crawling into your bed after a long hectic day. In addition to Steering clear from all the good options of going out and about with friends and family to avoid pandemic spread, now you've got the perfect conditions to crave for a good read. Given below is a Reading List for Family Communication.
WHAT ARE OUR RECOMMENDED BOOKS?
1. "Never Eat Alone" by Keith Ferrazzi
OVERVIEW:
The book "Never Eat Alone" tells us about the social life and relationship building. This book was written back when there were no signs of social media. But here are the things about this book; he explains how to become social if you don't have any friends and you suffer in expanding your personal relations. It somehow relates to introverts and how they're most likely to be found alone rather than hanging out with their friends.
The author is a powerful motivational speaker who owns a consulting company but he did not always have these luxuries of life. He grew up poor and assisted at the local club and that's when he knew the power of connections. This clearly indicates that even if you're not born in elite families, you can still build a network of mutual support.
Who should read "Never Eat Alone"? and why?
We are living in a society where criticism is prioritized over being praised. Getting a good feedback is hard to get whereas you're judged frequently. "Never Eat Alone" is an easy read, and Ferrazzi writes enthusiastically and persuasively and one must add this book to his/her Reading List. If you're serious about building your network, there are plenty of ideas here to try.
2. "The Art of Gathering" by Priya Parker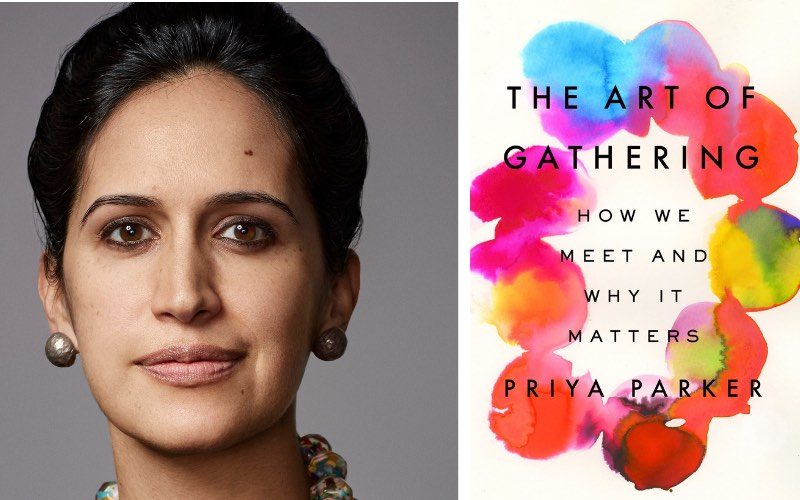 OVERVIEW:
Have you ever thought about what makes an interesting and successful gathering? We spend so much time in gathering what we have ever thought about. But what makes it successful and enjoyable? We surf on the internet to search for the perfect ideas but we never understood the deeper meaning behind this. A good portion of our lives are spent at social gathering starting from our families, friends and schools. Growing up and attending weddings, parties and meeting etc. to the end of lives by attending funerals.
In this book, when the author gets to know that she is pregnant and her friends want to give her a baby shower as it was some kind of ritual but both the author and hosts of the event did not know the purpose of the event. It's when the husband also decides to join this event even this is supposed to be a "ladies only" event. They uncover that gatherings are more about why and the purpose of event rather than the what it is about.
Why read "The Art of Social Gathering"?
It is an outlook that will transfer how people living in a social circle gather and the way they meet each other on daily basis. Adding this book to your Reading List for Family Communication will surely let you know about how to be more social and will enhance your skills to a large extent.
3. "Healing Family Relationships: A Guide to Peace and Reconciliation" byRob Rienow
OVERVIEW:
Many of us come from such family backgrounds that are broken and deeply divided and it's true that it's hard for mostly people to overcome the pain that they have endured over the years. The concept presented in the book are straightforward but very powerful.
The book is a short one and starts by showcasing a family that has been hurting albeit a bit more than others. Then he starts explaining the power of forgiveness in healing of families. Moreover, he discusses his own family and his struggles that he endured with his parents and his wife.
Why you should read this book?
If you are from a family that is broken and you have not been able to recover from the trauma, this is the right book for you to add to your Reading List for Family Communication in order to heal yourself from the pain.
4. "But It's Your Family…" by Sherrie Campbell
OVERVIEW:
"But It's Your family…" is a book that spots the difference between a healthy family and a toxic family. This book tells us what does "severing ties with dysfunctional family members and abuse" mean, following the effects of it. Loving someone doesn't always mean that you are connected or bound to them, just like forgiveness doesn't mean that all the differences have been resolved.
A major part of healing comes with accepting that it is a part of life and some relations can be toxic and can ruin one's health and ability to function properly. Dr. Sherrie Campbell explains that close relations can be toxic and they can be loved from a distance without affecting you.
Why choose "But It's Your Family…"?
After reading this book, the readers will be able to identify the toxic relations in their surroundings and cut ties with them for the greater good. The readers will also learn to love themselves in the process and change themselves which is why it must be a part of your Reading List for Family Communication.
5. "I Hear You" by Michael Sorensen
OVERVIEW:
"I Hear You" is a short and simple book about validation which means "act of helping someone, feel heard and understood". The main point of this books is that we usually don't listen to our friends and family or other people around us, and we're often quick in criticizing other people without thinking if the other person wants it or not. Validation is a simple way to overcome these issues and have more meaningful conversations.
This books includes the ways how to listen to someone and understand their emotions. Sorensen has given a four-step validation method that is as follows:
Listen carefully and attentively to the person
Be true to their emotions
Identify the primary emotion
Justify their reason for feeling this emotion
Offer advice and motivation
Validate their emotions again
Why you should read this book?
If you want to improve your relationship with your partner, want to be connected to your friends and family on a deeper level or want to deal with the difficult type of conversations at office, add this book to your Reading List for Family Communication and it will teach you the proven, simple and useful methods for your relationships within your social circle.